Fun Fall Activities Near Milford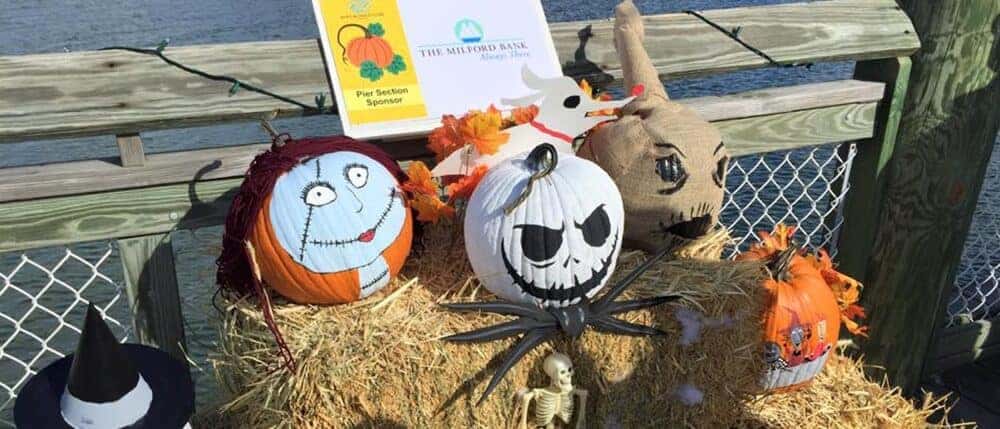 More Milford Activities Contact Us
New England falls are a treasure you don't want to let slip past you. Enjoy a wealth of festive activities this fall by taking your friends and family to some of the best fall activities going on in and around Milford, CT. Here are just a few
1. Spirits of Milford Ghost Walks
Looking to explore the spookier side of Milford this fall? Then make sure to take advantage of the Spirits of Milford Ghost Walks! Appropriate for all ages, this fun tour includes fun and spooky stories that everyone can enjoy, including stories wrapped in Milford's true history.
Date & Time: Every weekend from end of September through early November
Location: Starting at the Factory Lane side of the Hotchkiss Bridge
2. Pumpkins on the Pier
Brought to you by the Boys & Girls Club of Milford, Pumpkins on the Pier is fall fun for the whole family. There will be a wide range of festivities going on, including a pie eating contest, games, crafts, and other fun activities for everyone to enjoy. The night before, the all-new Pumpkins Eve event will include music, food, fun, and craft beers brewed especially for this event.
Location: Intersection of East Broadway and Shea Ave.
Date & Time: Pumpkins Eve – October 6th, 6:00-10:00 p.m.; Pumpkins on the Pier – October 7th, 10:00 a.m. – 5:00 p.m.
3. Beardsley's Cider Mill and Orchard
Located just 20 minutes north of Milford and 25 minutes north of Stratford, Beardsley's Cider Mill and Orchard includes loads of fun for everybody. Pick your own, or stop in for some tasty fall snacks and a glass of hard cider or regular cider.
Location: 278 Leavenworth Rd. Rt. 10, Sheldon, CT
Date and Time: Every day – 10:00 a.m. – 5:30 p.m.; Pick your own – Saturday and Sunday, 10:00 a.m. – 5:00 pm.
Enjoy Your Fall by Participating in Fun Milford Area Activities
Whether you're in Stratford, West Haven, or any of the surrounding areas, there's lots to do this fall—including fun downtown destinations in Milford. Get where you're going this fall with the help of AcuraLink® turn-by-turn navigation directions, and find the right car for your fall trips at Acura of Milford, located at 1503 Boston Post Rd. in Milford, CT. Feel free to contact us at 203-872-0019 for more advice about what to do near Milford this fall and where to eat! Looking to do some shopping beforehand? Check out our guide to shopping in Milford or where to experience the fall colors!