How Often Should I Get My Oil Changed?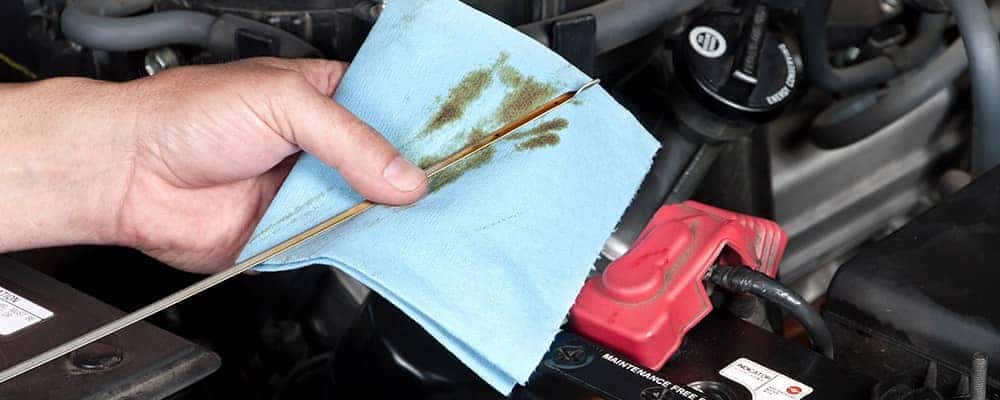 The rule-of-thumb for when you should get your oil changed used to be that you should change your oil every three months or every 3,000 miles. However, recent advances in auto engineering have changed that belief. Now, it's recommended to change your oil every 5,000 miles to maintain good vehicle condition.
This rule-of-thumb can vary slightly depending on your specific make and model, so be sure to check your owner's manual for the manufacturer's recommendation. When you're ready for service, contact Milford Acura service center to perform this essential maintenance.
What Makes An Oil Change Important?
So, why is regular service important? In order to preserve the precision, performance, and safety of your beloved Acura, staying on top of service is of vital importance. Engines are comprised of many intricate parts that fire and move against each other, and oil helps to prevent excessive friction within. Engine oil acts as a lubricant that keeps the pistons and the inner walls of the engine housing running smoothly, and if you wait too long to get it changed, the oil can run low or begin to break down. Excessive engine heating then leads to a decrease in performance and loss of vehicle efficiency, incurring unnecessary wear and tear. Our service team can offer quick service for oil changes and our service specials will help you save even more off of our competitive prices. Trust the experts here at Acura of Milford for your Acura oil changes.
How Do I Change My Oil?
While you can always turn to the pros on our team to handle your oil change properly, we know some Fairfield drivers enjoy at-home car care. If you are looking to change your oil on your own, you'll need some key know-how to get the job done. Here at Acura of Milford, we offer a number of service tips to help you take on maintenance in your New Haven garage like a pro. Follow these steps below to learn how to change your oil:
Choose the right kind of oil
Prepare your tools and workspace
Prepare a drip pan to catch the discarded oil
Drain old oil from the drain plug
Tighten the drain plug
Switch out the oil filter
Add fresh oil
Make sure the oil level is correct
Acura Oil Change Intervals
When should you get your oil changed if you drive an Acura? Like with any vehicle, when you should have an oil change will depend on what kind of Acura you drive. Here are the mileage intervals of core Acura models:
Acura ILX Oil Change Intervals: 3,000-5,000 miles
Acura RDX Oil Change Intervals: 3,000-5,000 miles
Acura MDX Oil Change Intervals: 3,000-5,000 miles
Acura TLX Oil Change Intervals: 3,000-5,000 miles
As you can see, the oil change intervals for most Acura vehicles are around the same. Keep in mind that if your Acura uses synthetic oil, then you can usually go about 7,500-10,000 miles before needing an oil change.
What is Acura Maintenance Minder™?
The Acura Maintenance Minder™ system is an innovative tool used to help drivers narrow down what service is needed, and to navigate with greater peace of mind. When in need of service, you will see the Acura Maintenance Minder™ code displayed in the dash when you start up your vehicle. The system uses two Acura service codes, A and B, and sub maintenance items 1-6. If you were to ask, "What is Acura A1 service?" you would know based on the service code readout, that you would need an oil change and a tire rotation. The Acura Maintenance Minder™ system allows you to know exactly what service is needed, taking the guesswork and anxiety out of that ominous service light found on so many other models. Along with inquiring about "What is Acura A1 service?" be sure to ask about our service specials for increased chances to save!
Schedule Your Oil Change With Acura of Milford and Save
While some people have the tools and time to change their oil in their Bridgeport driveway, many prefer the convenience and ease of a certified service center. At Acura of Milford, you can easily schedule an appointment for your next oil change, and keep your car running smoothly for years to come without breaking the bank thanks to our service specials. Don't forget to check out our tips on how to prep your car for the winter months! If you want to discuss why service is important or any of our rotating service specials, contact us today for personalized guidance!
---
More From Acura of Milford
Drivers can enjoy choosing from four 2023 Acura Integra packages. Each comes with a beautifully designed and elegant exterior, and the interior is equipped with 12-way power adjustability and memory function seats. The interior appointments like a leather wrapped steering wheel, and luxury elements like the ambient cabin lighting make every ride feel special….

You can drive a performance-centric luxury SUV without breaking the bank every time you need to fill the tank. If you're wondering what you can expect from the 2023 Acura MDX MPG rating? This three-row SUV offers a competitive 19 mpg city/25 mpg highway.* Take a look at how the Acura MDX MPG numbers…

Do soaring fuel costs have you thinking about gas mileage like most other Milford drivers? Then you'll want to take a look at the new Integra. The EPA-estimated 2023 Acura Integra gas mileage gets as high as 37 miles per gallon on the highway. Of course, that gas mileage can vary by certain options, like…