Behold the Car Cupholder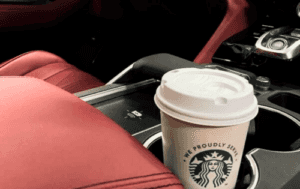 The Acura MDX has 10 of them. No, we're not talking about weather mats, but cupholders! There's plenty of space for a D&D Pumpkin Spice Signature Latte, a YETI Rambler, and sippy cups for everyone!  But it wasn't always this easy to enjoy a beverage in your car.
Early automobiles, such as the Model T, came equipped with all kinds of accessories for eating and drinking.  Foldout tables, pantry storage, and even iceboxes were stowed in the trunk, but they were intended for use when the car was not in motion. In the 1950s, we saw the onset of drive-in restaurants where roller-skating waitresses propped up trays of burgers and milkshakes on rolled-down car windows.
But it wasn't until 1953 when the first patent for a car cupholder was granted to a Texas inventor.  The designs called for a cylinder to hold a cup and a console between two backseats with two round holds for drinks.  It would take two long decades before the auto manufacturing industry would embrace cupholders as part of the overall interior design.
It was the concept of "the commute" in the late 60's that catapulted the need for the modern-day cupholder.  Early commuters adopted after-market plastic cupholders that affixed to the car window. By the mid-1980s, auto manufacturers finally caught on and began including cupholders in the design of car interiors.  The earliest versions of the cupholder popped up in minivans as round indentations in the center console large enough to hold a 12-ounce cup of coffee.
Today, cupholders have taken on a whole new shape and size, accommodating everything from a juice box to a Double Gulp Slurpee, and sometimes they even light up the night with soft LED lighting.  Face it, we can't live (or drive) without our car cupholders!